Risk
KT360 can assist in the reduction of injury risk through real-time biofeedback and immediate automated reporting
Readiness
Intuitive, alert-based analysis will have
you ready to tackle any challenge that
may come your way.
Return
Be guided by objective interventions
that quantify return to play protocols.



Targeted testing and training, real-time biofeedback
and advanced analytics.
KT360 allows you to proactively manage and improve athlete strength and performance,
better understand injury risk and help guide the prescription of interventions.

Engineered for
performance
7 load cells with both push and pull functionality and up to 200kg measurement capacity.
Pin free height adjustment and an Onboard Goniometer for 1° incremental sensor adjustment

Award
winning design
360° Sensor unit rotation, housed within a counterweighted unit designed for increased stability and more accurate results. Additional padding & moveable matting provides superior athlete comfort

Comprehensive suite
of protocols
50+ testing and training protocols with methods for control, strength, pain modulation, endurance and time under tension, and the ability to test a range of modifiable risk factors across the whole body

Exceptional

user experience
KT360 software provides a gamified
experience for users and delivers
real-time alert-based analysis based
on athlete history, current results
and progression.

Sports specific
athlete profiling
Normative datasets provide insight
into where athletes sit from a performance
and injury risk perspective

Durable &
portable
Optional military grade travel
case designed for maximum
protection & portability

Capture key subjective data for athlete
health and wellbeing with KT App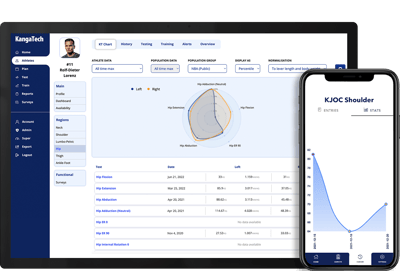 KT app assists with the diagnosis, measurement,
monitoring and treatment of sports related medical
conditions and provides practitioners with a variety
of surveys, ranging from basic RPE, through to
specific areas including HAGOS and VISA.

Subscribe to receive KT Insights